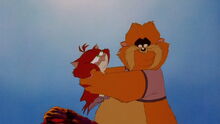 The owl is a Bird of Prey from An American Tail: Fievel Goes West. In the film, the owl is perched on a cactus as Tiger is tricked by a mirage into thinking it's Miss Kitty. The owl enjoys being kissed by Tiger, but is offended and flies off after he rejects her. The owl also seen later in the film, watching the showdown between the Cactus Cat Gang and Tiger, Fievel and Wylie Burp.
The gender of the owl is actually unclear, but is presumed female.
Ad blocker interference detected!
Wikia is a free-to-use site that makes money from advertising. We have a modified experience for viewers using ad blockers

Wikia is not accessible if you've made further modifications. Remove the custom ad blocker rule(s) and the page will load as expected.