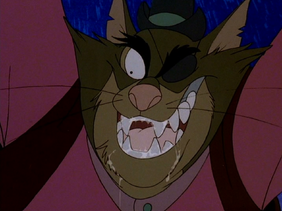 One Eye is the tertiary antagonist in An American Tail: Fievel Goes West. He was voiced by Patrick Pinney.
He is one of Cat R. Waul's minions. He appears briefly in Fievel's dream, along with the rest of Waul's gang, where Fievel helps his hero, Wiley Burp.
He actually appears in the cat chase scene, where he breaks a hole in the wall of the Mousekewitz's house and starts emptying out its contents, unknowingly throwing out the mice. Mama, Tanya and Yasha are thrown onto the ground, while Papa is left dangling from a ledge. As Tanya screams "Papa", the cat hears her and spots the family on the ground. He corners Mama, Tanya and Yasha with an extremely whetted appetite. However Fievel calls out to him and challenges him, pulling his hat over one of his own eyes to "make it a fair fight". Fievel recklessly provokes One-Eye by calling him a "fur-head" and soon finds himself less brave as the fat cat closes in on him. Ignoring Cat R. Waul's orders to simply scare the mice into the sewers, One-Eye declares Fievel as his lunch, but before he can touch Fievel, he is suddenly disturbed by a screeching noise as Papa plays out of tune on his guitar and yells at Fievel to run. Fievel makes a break and is chased by One Eye. He manages to get inside a circular container, which is sent rolling as the cat pounces at him. As the container rolls down the street, the rest of his family get inside. They roll until they reach the drain lid, whose edge forms a bump, blocking them. Papa orders the family to run, putting the container in a spin. Yasha whose feet aren't even touching the ground tries running too. Eventually they roll the container over the bump and down into the sewer, narrowly escaping One Eye. Cat R. Waul approaches the drain lid and compliments the other cats' performance and says that his part is next.
One Eye was then seen on a train cart full of cows, playing cards with two other cats and the tarantula, T.R. Chula. He gets angry when he loses, but claims that Chula was cheating by "playing his last hand" only for Chula to reveal that he had seven more ready. When One-Eye and the other cats then complain to Cat R. Waul why they are not eating the mice in the other cart of the train, Waul answered that he plots to turn the mice into "mouse burgers" once they had outlived their usefulness to him in building a town in the Old West.
He was briefly seen throughout the rest of the movie, and he, along with Cat R. Waul and the other cats, gets defeated by Fievel and his friends.
Comic Book Adaptation
In the Marvel Comics adaptation of the "An American Tail: Fievel Goes West". The roles of One Eye is the same, the only exception is that the Cactus Cat Gang at the start of the movie are the more focused on in the story. He and Fievel even have a sort rematch in one panel around the showdown in comic's take of the film's climactic showdown. scene.
Other Mediums
He returns in "Fievel's American Tails" as a background character, usually in a group picture with the other cats.
Trivia:
It is unknown what happen to his right eye, as his "Fievel Goes West" Trading Card sates that "no one really wants to ask him.
In the movie, One eye's fur is mostly shades of gray. But in other mediums: like the comic book adaption, animated show spin-off, the video game, and his trading card, depicts him as a redish-brown furred cat with a tan undercoat.
His attire, his purple shirt with a black vest, and his fur color scheme in the movie, different shades of gray, is similar to Carface's design from All Dogs Go To Heaven.
He is one of Cat R Waul's henchmen who nearly disobeyed his boss.
Gallery
Ad blocker interference detected!
Wikia is a free-to-use site that makes money from advertising. We have a modified experience for viewers using ad blockers

Wikia is not accessible if you've made further modifications. Remove the custom ad blocker rule(s) and the page will load as expected.