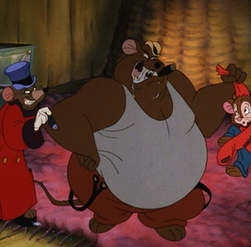 Moe is one of minor antagonists of the first film. He is a fat rat who runs the sweatshop Fievel is sold to by Warren T. It is stated that he forwards his workers' wages (fifty cents a day) straight to Warren, making his workers essentially slaves. They are not allowed to leave the sweatshop.
Trivia and Goofs
Moe is shown much bigger than Warren, even though we later find out that Warren is a cat.
In the novelization he is seen a little more. The workers tie him up before escaping the sweat shop.
Ad blocker interference detected!
Wikia is a free-to-use site that makes money from advertising. We have a modified experience for viewers using ad blockers

Wikia is not accessible if you've made further modifications. Remove the custom ad blocker rule(s) and the page will load as expected.