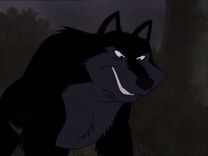 Lone Woof is a character from An American Tail: Mystery of the Night Monster. He is voiced by John Garry.
Role in the Film
Lone Woof is the leader of the Council of Dogs, a pack of stray dogs that live in Central Park in New York. He apparently is a friend of Nellie Brie, though it isn't explained how they met. Most likely, he helped her on one of her cases. While trying to find out who might be behind The Night Monster, she goes to him for help, taking Fievel, Tony and Tiger with. He at first refuses to help them because he doesn't deal in mouse affairs, but after the four of them sing "Who Will", he is talked into giving them a clue. He points to a missing dog poster on a nearby tree, which has a picture of Madame Mousey on it.
Later in the film, Tiger is forced to go to the Council of Dogs for help because the Night Monster has kidnapped all the mice. It is later revealed that Madame Mousey tried to join the Council of Dogs after running away from her owner, but was kicked out for being too small and irritating. Seeing that Mousey was their problem too and what had happened to the mice was partly because the Council never stopped her, Lone Woof decides to hunt Mousey down, capture her, and return her to her owner.
Ad blocker interference detected!
Wikia is a free-to-use site that makes money from advertising. We have a modified experience for viewers using ad blockers

Wikia is not accessible if you've made further modifications. Remove the custom ad blocker rule(s) and the page will load as expected.