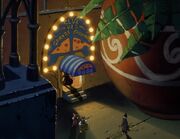 Les Club Des Grands Fromages (French for "The Big Cheese Club") is a club for the wealthier members of New York City and is a location in
An American Tail: The Treasure of Manhattan Island.
It is here that the villains of the movie meet and it is revealed that
Chief McBrusque
and
Scuttlebutt
are working for Grasping, Toplofty and O'Bloat.
Ad blocker interference detected!
Wikia is a free-to-use site that makes money from advertising. We have a modified experience for viewers using ad blockers

Wikia is not accessible if you've made further modifications. Remove the custom ad blocker rule(s) and the page will load as expected.