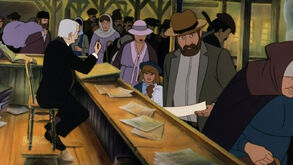 Humans in the An American Tail movies are often in the background, and are almost never the focal point. Only rarely are their faces shown. They are always oblivious to the talking, clothed animals that live among them; incredibly, things like the Giant Mouse of Minsk, Cat R. Waul's mouse trap, a mouse street riot, and the destruction caused by the Night Monster aren't enough to even turn their heads. Yet sometimes they affect the plot, and are always a background element.
In the first movie, as an artistic choice Don Bluth animated humans with rotoscoping, purposely making them more "real" than the cartoon mice among them.
Notable appearances
An American Tail:
An American Tail: Fievel Goes West
Fievel's American Tails
An American Tail: The Treasure of Manhattan Island
An American Tail: The Mystery of the Night Monster
Ad blocker interference detected!
Wikia is a free-to-use site that makes money from advertising. We have a modified experience for viewers using ad blockers

Wikia is not accessible if you've made further modifications. Remove the custom ad blocker rule(s) and the page will load as expected.