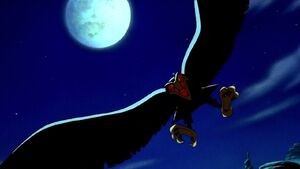 The Hawk is an antagonist from 1991 movie, An American Tail: Fievel Goes West. It swoops down after Fievel when he's lost in the desert, picking him up after chasing him into a scorpion hole. The hawk is later shot out of the sky by the Mousehican tribe using fireworks; the Native American Mice are shown carrying a plate with a fully-cooked bird on it a couple scenes later, which we can presume was the hawk.
Role in the Film
The hawk mainly exists to provide tension while Fievel is lost in the desert, illustrating just how dangerous of a situation he is in. Fievel even squeaks like a mouse when he is being chased by the hawk, the only time in the series where he does so. This perhaps helps show that he is truly the prey.
Gallery
Ad blocker interference detected!
Wikia is a free-to-use site that makes money from advertising. We have a modified experience for viewers using ad blockers

Wikia is not accessible if you've made further modifications. Remove the custom ad blocker rule(s) and the page will load as expected.