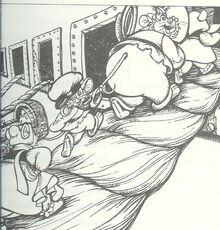 Hamburg is the second largest city in Germany. Today, Hamburg is the eighth largest city in European Union. Hamburg appears in an early scene in An American Tail.
In 1885 (or early 1886), humans and mice board the ship to go to United States of America, to the accompaniment of a festive German polka band, overseen by a pair of seagulls. After the Mousekewitz family home is destroyed by an anti-Jewish pogrom and cats, they have to travel to Hamburg to board a ship to go to US. The procession is constantly interrupted by Fievel stopping to look at things.
Ad blocker interference detected!
Wikia is a free-to-use site that makes money from advertising. We have a modified experience for viewers using ad blockers

Wikia is not accessible if you've made further modifications. Remove the custom ad blocker rule(s) and the page will load as expected.