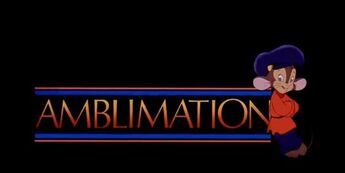 Amblimation was a short-lived animation production arm of Steven Spielberg's Amblin Entertainment, and it was active from 1991 until about 1997, formed with the animation staff from Who Framed Roger Rabbit. Spielberg created the animation studio after parting ways with Don Bluth. Despite their lavish animation, even when compared to what Disney was putting out at the time, none of the films were critically or commercially successful and the studio closed after only three films and a couple of TV specials.
The company's mascot was Fievel Mousekewitz, who appears in its production logo. Given that he's both a mouse, the main character of Spielberg's first entrance into animation and a character that had some personal relevance to Spielberg (being named after his grandfather), it's not hard to see why Fievel was chosen.
The feature animation studio was located in London, England, UK. In 1997, the London studio was shut down and some of the Amblimation staff moved on to DreamWorks Animation. After the London studio was shut down, all references with Amblimation became Amblin Entertainment. Today DreamWorks Animation is somewhat of a spiritual successor to Amblimation (it's more obvious in Dreamworks' early 2D animated films), and has had far more success.
Productions
A Wish for Wings That Work
Fievel's American Tails (produced along with Wang Film Productions)
Back to the Future: The Animated Series
We're Back! A Dinosaur Story
Balto
Ad blocker interference detected!
Wikia is a free-to-use site that makes money from advertising. We have a modified experience for viewers using ad blockers

Wikia is not accessible if you've made further modifications. Remove the custom ad blocker rule(s) and the page will load as expected.